Valentine's Day Flashcards
, Valentine's Day printables, Valentine's Day worksheets, lesson plans, word searches, games and more! preview these cards

St. Valentine's Day, a heart, Happy Valentine's Day*, a valentine, a box of chocolates, candy hearts, Cupid, an arrow, a date, writing a valentine, sending a valentine, getting a valentine, a popular boy, disgusting/gross, embarrassing, carnations, love struck*, a rose
large flash cards, medium flash, small game cards, bingo, handout same cards with b/w backings: medium flash, small game cards, bingo
Valentine's PowerPoint flashcards
Mark's note: *love struck and Happy Valentine's Day don't appear in the bingo cards because I teach them as extra but I have included them in the medium and small cards sets incase you wanted to use them.
Play the online Valentine's Day FLASH game with your students.
Printable Valentine's Day worksheet templates: word searches, crosswords, bingo, reading and writing material, dice, dominoes, games

Ready-to-print Valentine's Worksheets:

4 different
Valentine's word searches
- words from Valentine's set
Fix the Hearts - students connect the broken hearts to make Valentine's words from the Valentine's set. Then they write the words to practice spelling.
Fix the Hearts Word doc. - You can edit the text to practice current vocabulary with a Valentine's theme.
3 different
Valentine's crosswords
- words from Valentine's set
Valentine's crossword that you can edit the hints - a Word .doc
- 40+ styles to choose from. There are cute styles and styles with photo images as well. They're good for your Valentine or even friends or family.
find more printable cards for all different occasions at mescards.com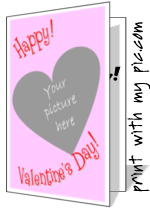 - Valentine's Day cards to print with your photo. Use a photo from your computer or add a photo from the internet by entering the URL. There is a simple one page interface that lets you completely customize your Valentine's Day card. Personalize the text and zoom in and out or adjust your picture as necessary. All of this from a new MES Site - print with my pic.com!



There are also some new Valentine's photo frame templates available. You can make Valentine's Day picture frames to print and make printable posters and more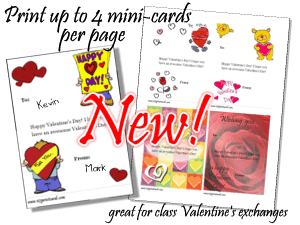 I've made some new smaller cards you can print out with up to 4 cards per page. These are great for children that are going to be bringing Valentine's Day cards to school for a card exchange.
All of the text is 100% customizable or you can just leave all of the text fields blank and you'll have blank Valentine's Day card templates.