MES Flashcards
Adjectives 3 sets
Animals 5 sets
Bathroom
Bedroom
Body Parts
Buildings (live)
Chores - 'have to'
Christmas 2 sets
Classroom 2 sets
Clothing 3 sets
Countries
Daily Routines
Days
Descriptions (hair)
Easter
Family
Fantasy 2 sets
Feelings/Emotions
Food/Drinks/Desserts
Fruit (with likes, does, doesn't)
Future Tense (be going to ~)
Halloween 3 sets
Health have and feel sets
Hobbies 2 sets
House 2 sets
Insects
Kitchen 3 sets
Living Room
Months + clipart
Music - instruments
Nationalities 3 sets
Nature 3 sets
Numbers
Part-time Jobs 3 sets
Passive Verbs 2 sets
Past Tense 3 sets
People/Jobs 2 sets
Phrasal Verbs 2 sets
Places 2 sets + There is
Playground
Plural Nouns
Prepositions of place and movement
Pronouns object and possessive pronouns
Question Words
Recess Activities 2 sets
School Building
School Subjects
Science
Senses 5 sets: look, feel, sound, taste, smell
Shapes and Colors
Signs - road signs + prohibition
Sports 3 sets
St. Patrick's Day
Super Powers
Thanksgiving 2 sets
Time clock faces
Tools
Transportation
Valentine's Day
Vegetables
Verbs 5 sets +can
Weather + elements


Worksheets for MES Flashcards

links:

123 Certifcates

Print With My Pic

Tools for Educators

MES-English's favorite resource sites
Language Resource Room
Food / Snacks / Deserts / Drinks / Condiments
These are great cards for putting together role plays for in the restaurant or shopping. You may also use them for dinner table scenarios or people running the register at a fast-food restaurant.
salad, bread, spaghetti, soup, fish, chicken, corndog, French fries, cheese burger, hotdog, pizza, a sandwich, a taco, cereal, cheese, bacon and eggs, rice, steak
large flash cards
, small game cards,
bingo cards
, a handout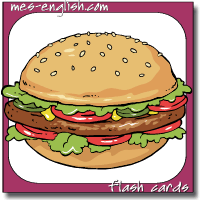 same cards with b/w backings:
Food PowerPoint flashcards
Tools for Educators is a website developed by MES with worksheet generators to make vocabulary and language building teaching materials, using the images from these flashcards. There are simple spelling, matching, reading and writing worksheet makers as well as communicative games, vocabulary handouts and fun activities to print. Check the main site for all options, but here are a few of the more popular worksheet templates available:
word serach generator
crossword maker
board games
picture dictionary
bingo boards
123 Listening is a website developed by MES with Dream English. It has free listening tests to download with matching audio. There are listening worksheet makers you can use to make custom listening tests as well. They also use the same vocabulary sets and images to match these flashcards.
listening worksheet makers
listening test audio
MES Games is an online ESL games site for students. There are vocabulary building games, spelling games, grammar games and more. Students can listen to native speakers, answer questions and practice online to help with vocabulary retention and use.
ESL games
jello, peanuts, pudding, nachos, potato chips, candy bar, pie, a doughnut, cake, a popsicle, ice cream, ice cream bar, a pretzel, a muffin, cookies, crackers, a sundae, popcorn
large flash cards, small game cards, bingo cards, a handout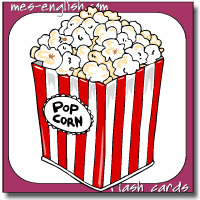 same cards with b/w backings:
PowerPoint flashcards
soda, milk, juice, water, lemonade, iced tea, a slushy, a milkshake, hot chocolate, tea, coffee, beer, wine, champagne
large flash cards, small game cards, bingo cards, a handout
same cards with b/w backings:
PowerPoint flashcards
ketchup, mustard, mayonnaise, hot sauce, jam, peanut butter, honey, salsa, dip, cream cheese, sugar, pepper, salt, vinegar, dressing, sour cream, butter, relish, syrup
large flash cards, small game cards, bingo cards, a handout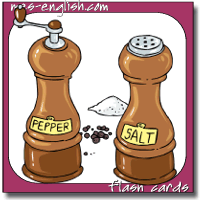 same cards with b/w backings:
PowerPoint flashcards