Halloween Flashcards Set 1
vocabulary: a jack o' lantern, trick or treat, candy, a spider web, a haunted house, a black cat, a bat, a ghost, a vampire, a skeleton, a mummy, Frankenstein, a witch, a spider, a werewolf
Don't want to print? Try the online flashcards
Games and worksheets to match these flashcards:
Below are some additional cards and worksheets that are ready to print. If you need different vocabulary, a different language, or would like to mix sets for your worksheets, you can do that. See the 'make your own' options.
Bingo Cards: these options give you 16 cards to print. If you need more cards just click reload or refresh your browser to get a new configuration.
Handouts: this option is for the vocabulary library format with the pictures up top and the vocabulary below in a word bank style
Crossword Puzzles: there are several options below, reload or refresh the browser to get a new configuration
Board Games: these use the Galactic Challenge board game template. For more styles and custom options, please see the 'make your own' option
Maze Games: these use the 12-box option with one image or the word in the content squares and small maze path style. For more layout options and custom mazes, please see the 'make your own' option.
For ready-to-print worksheets and activities to match these cards, check out these Halloween 1 word search or the Halloween coloring pages.
Halloween listening exercises: worksheets and audio to match these flashcards
Halloween 2 PowerPoint flashcards
Printable Halloween Games:
Bone Collector a downloadable Halloween card game.
This is a deck of Halloween cards for students to play any game with. I use them at my Halloween party to play War (the person with the most bones wins.) The Bone Collector card can be used as the strongest card in the deck or as a joker.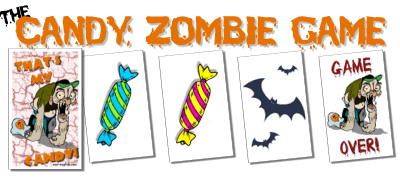 The Candy Zombie Card Game. You place one set of cards face down. Students must find 4 (or all 6 to make it more difficult) pieces of candy to win. If the Candy Zombie card comes up, they lose.
More Halloween Printables from MES
Halloween Awards and Certificates: Here you'll find 20+ different printable Halloween award certificates that are 100% customizable. You can use them at your Halloween parties, use them as invitations, use them to reward carving party guests or use them for your costume contests!
Halloween Party ideas:
Check out my English school Halloween parties for group games and party ideas. 2003 2004 2005 2006 party 2007 party 2009 party 2010 party 2011 party
Here's a thread for some of Mark's Halloween party ideas and some decorating ideas.
Still can't find what you need? Try the Halloween Printables Guide: