Easter Flashcards:
vocabulary: Easter, Easter eggs, the Easter Bunny, an Easter basket, Easter egg hunt, hiding, dyeing, Easter Day Parade, decorating, a chick, a lamb, a chocolate bunny, jelly beans, a tulip, white lilies
Try the on-line Easter game with you students. There is a review section where students can click and hear the word pronounced. There is also a game for them to play using the vocabulary and pictures from these flashcards.
Check out the free downloadable Easter song from Dream English! It set to the tune Peter Cottontail and has a vocabulary practice section in the middle that matches the MES-English Easter flashcard set.
Print old MES files: here are the old (2006~2014) easter files
Easter PowerPoint flashcards
Extra Christian flash cards: Jesus, cross, Good Friday, resurrection
Bunny Land Game
This is a fun printable board game for Easter. Students draw cards and move around the board to get the Easter Bunny back home in time for Easter.
an Easter graded reader: Where do Easter Eggs Come From?
This is fun 8 page book about how easter eggs end up in your house or garden on Easter morning. I hope the students (and teachers) enjoy it.
More Easter Printables from MES:
Print Easter Certificates and Easter Egg Hunt Awards- 10 different styles; both religious and Easter bunnious :)
free printable Easter sticker Charts
free printable Easter greeting cards: There are 24 different Easter cards some with cute cartoon images and some with photo images. There are 2 invitation makers you could use for Easter egg hunt party invitations and there are 3 different card makers to make any king of Eater card you need.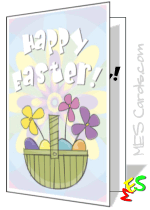 Free Easter bookmarks: 100% customizable
MES English Certificate Templates Printable Cards Phonics Worksheets Worksheet Makers ESL Listening
End User License Agreement: You are free to download any resource from this site as an end user and MES-English.com grants you an End User License with the following restrictions: You may not redistribute, copy, modify, transfer, transmit, repackage, charge for or sell any of the materials from this site. You may use photocopies or printouts for distribution to your students. MES reserves the right to terminate or make changes to this agreement for any reason and without notice.
Copyright © 2005 - 2021 MES English | restrictions | privacy | about | contact