MES-Phonics Home
Hard Consonants / Short Vowels: Aa-Zz Flash Cards, game cards, handouts, posters, short vowel flash cards w/ handout
Phonics Worksheets: writing and alphabet worksheets, a phonics workbook series and clipart
Consonant Blends: Beginning Consonants, Ending Consonants, flash cards, games cards, and handouts
Silent 'e': a silent e handout and flash cards
Digraphs: consonant and vowel digraphs handouts and flash cards; also contains some diphthongs
R Controlled Vowels: vowel + r combinations ar, er, ir, or, ur
Custom Phonics worksheets: make dice, board games, reading, writing, spelling worksheets and more!
Dolch Sight Words: sight word flash cards, word lists and handouts
links:
MES-English's favorite resource sites
Language Resource Room
Silent 'e' printables for teachers and parents: These are vowel + consonant + silent e flash cards and handout set.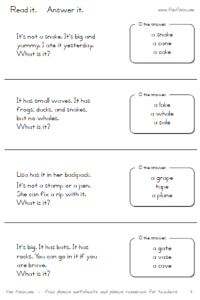 Need silent-e worksheets?
- Fun Fonix Book 3 is a complete silent-e workbook that covers all of the long vowels with sound recognition practice, vocabulary building, word building, reading and writing exercises.
You can find more phonics printables and phonics resources at www.funfonix.com. There are also some online phonics games for students.