MES-Phonics Home
Hard Consonants / Short Vowels: Aa-Zz Flash Cards, game cards, handouts, posters, short vowel flash cards w/ handout
Phonics Worksheets: writing and alphabet worksheets, a phonics workbook series and clipart
Consonant Blends: Beginning Consonants, Ending Consonants, flash cards, games cards, and handouts
Silent 'e': a silent e handout and flash cards
Digraphs: consonant and vowel digraphs handouts and flash cards; also contains some diphthongs
R Controlled Vowels: vowel + r combinations ar, er, ir, or, ur
Custom Phonics worksheets: make dice, board games, reading, writing, spelling worksheets and more!
Dolch Sight Words: sight word flash cards, word lists and handouts
links:
MES-English's favorite resource sites
Language Resource Room
Consonant Digraphs: ch, ck, ng, qu, sh, th, wh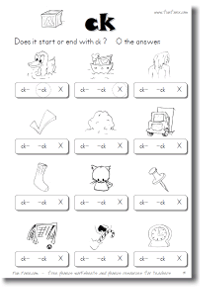 Fun Fonix.com has an entire consonant digraph workbook to print you can download with consonant digraph exercises.
If you just need a few worksheets, use these phonics worksheet makers to make reading, spelling, writing worksheets or games. You can completely customize them to make the perfect worksheet for your students.
Vowel Digraphs: ee, ea, ai, oa, oo, au, ea, ie, ou, ui (more correctly these are vowel combinations composed of digraphs and diphthongs )
large flash cards, ee,ea,ai, oo, oa handout, au, ea, ie, ou, ui handout
I teach the first 5 combos first and the second 5 a bit later. That's why there are 2 handouts. The flash cards contain all 10 in one file.
(a digraph is a combination of letters used to represent a single sound. a diphthong is a combination of 2 vowel sounds pronounced together in one syllable or 2 vowel letters joined together)