School Building and Classrooms Worksheets:
vocabulary: classroom, the music room, the art room, the library, the gymnasium, the science room, the cafeteria, the lockers/the hall, the principal's office, the school grounds, the baseball field, the playground, the pool, the computer room, the auditorium, the boys' room, the girls' room, the bus stop
there are pictures on the left and the words on the right. Students connect the pictures to the words and then trace the words. There are 2 versions; one with the words written out in dot form to be traced and a second with some of the letters missing for the students to think about and fill in.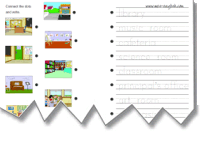 there are pictures on the left and three spaces on the right for students to write the words. There are three versions of this worksheet. The first page has the words in dotted form to be traced three times. The second has the word once in dot form to be traced then written two more times. The third simply has 3 blanks to write the words in.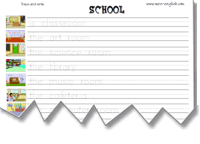 there are 3 versions with 2 different puzzles for each version. The first version has the words written out at the bottom for students to look for in the puzzle. The second version has just the pictures and the students have to find the words in the puzzle. The third has pictures and a place for students to write the words after they find them.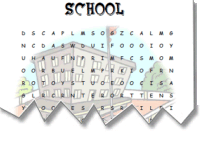 there is one crossword. It has images to represent all of the vocabulary. Students can look at the picture and write the word in the appropriate spot. There are many sites that offer free crossword makers if you want to make crosswords with word hints and not pictures.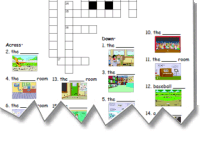 There are two versions of this game; one has just the pictures and a second has just the words. Students can travel around the board talking about the item, simply saying the English word, reading the word and then using it in a sentence, and more. It's up to you.
there are two pages with pictures and two blank lines for students to write anything they can about each picture. It can be as simple as 'I like ...' and 'This is ...' on up.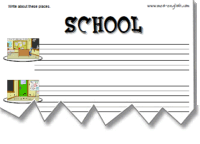 Flashcards to match these worksheets:
school flashcards from MES-English

If you need a different version or more options, check out Tools for Educators! This MES site has worksheet makers/templates to make the same style printables but more options for templates and more vocabulary choices.