---
Listen to the show.

Mark has a lot of news. Things are moving and shaking at MES-English with a new website that will bring a lot of flexibility to MES-English users and provide materials for teachers that may not have been MES-E users in the past.

Tools for Educators.com!

Mark has been working for a month or so on the new site and it offers teachers a few worksheet makers; a handout generator, dice makers, domino wizard, spelling and reading quizzes, a board game creator, a tracing and free writing worksheet generator and more. Please check it out!


Continuing with teaching methodologies, this week's show is the third in the series, the Audio-Lingual Method. Mark and Ron will run down for you what the Audio-Lingual method is, the principles behind it, and how it is/was used. We also discuss what we can take away from the method, plus a few thoughts on what we should leave behind.

Discuss this show here at the ESL Teacher Talk forums! Leave comments about this show, post any questions, words of encouragement, suggestions for future shows, or just pop-in and tell us who you are.

Thanks for listening!



The Game of the Week: Crisscross Bingo

Crisscross Bingo is a fresh version of the old classic. Students combine words or phrases in a speaking task that can be adjusted to the students' level. They plot points on their board much like Battleship and place a mark on their board. When they get 3 in a row or 4 in a row, bingo!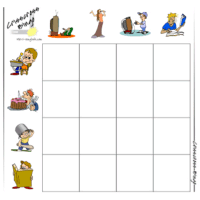 This game was designed to be played using dice which you can make here. You can also create the boards very quickly from Tools for Educators.com. But you don't need to do that. This game is easily adapted to larger classes, it can be played with flashcards instead of dice and it can be played with any ordinary pair of dice and a sheet of paper.

We hope your students (and you) enjoy the game!