---
This is a great writing activity for teens. The basic premise is they will be making a small magazine. Within the activity you can have different tasks for different levels. So if you are looking for a writing activity for a mixed level group, this should work well.

You don't need much for the activity, but it would be best to have a few teen magazines. I don't, so I just talked about magazines.



First:

Look at or discuss magazines.

- What magazines do they like? (sports, fashion, music, news, gossip, ...)
- What types of articles are in magazines? (quizzes, reviews, advice, reports, current events, top 10 lists, ...)
- What else do you find in magazines? (photos, advertisements, samples, personals, ...)





Second:

Explain that the students are going to make a small magazine.

First they need to decide what kind of magazine they want to make. If you have a few groups you can put them together by interest. If you have just a few students, just make a "teen" magazine and put everything in there.

Next, they need to decide what they will write about. They can write about movies, sports teams, pop stars, music, tech toys, local news, politics, ... anything.

For activities within those topics they can make:


easiest: a top 10 list
- students need to make a list of the items. They'll need a topic sentence or title. That's it really. Once they have that, you might try to coax them into writing a short explanation of why the top item was number one. "What's good about it?"


mid level: a quiz
- a quiz is fun for students. They like to show off what they know about something or see if their friends know as much or more. This would require making short questions and answers. The quiz also needs a title and maybe a short explanation about the theme.

To get more out of the activity have the students explain some of the answers in more detail or explain about 1 or 2 things that came up in the quiz.


mid level: write up an advertisement
- students can write a fake advertisement for a brand they like, store, restaurant, etc. They should write a little bit about the item and then provide some information, like prices, address, telephone number

This can be a larger advertisement with some products and product descriptions. The writing part is rather short and doesn't need to be so well organized. It's a little easier than writing an article.


more advanced: a review, article, or column
- This would just be a straight writing exercise. Students would need to come up with a theme and then write a well structured article. introduction - body - conclusion is a good start. They need a title as well.






Third:

put it together and make your magazine.

The students will need to get their content together. They'll need to discuss (in English preferably) which content should go on the cover. They may need to make some editorial decisions here and also should discuss the titles and headlines for the front.
- Do they capture the what the content is about?
- Does the headline spark interest? Will people want to read about it?

I have made some magazine cover templates to use with my groups. You can let the students upload a picture and design the magazine cover with these or let them make their own. The templates are good if you don't have a lot of time.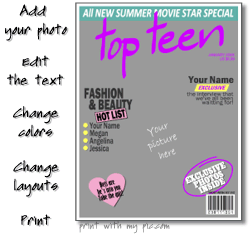 You can also have the students design their pages and add photos to the magazine. Again, if you don't have time, you can just collect the work and put it all together.



It's been a fun activity that we can do over and over again. We can make a new magazine or continue to build up the one we've made with new content. They can redesign the cover as well.

If you try it, let me know how it goes.