---
Happy December everybody! I've decorated my house and my classroom for Christmas, so now I match all of the stores that decorated back in Oct.


What's a December update without an account of what's new for Christmas? So, let's do Christmas first:

There is a new Christmas Printables Guide - with all of the MES printables that aren't necessarily teaching based, things like cards, calendars, coloring, but it also has links to Christmas worksheets as well.




- printable Christmas cards
- Christmas cards to print with your photo + flat Christmas card templates
- Christmas calendar templates
- Christmas worksheets
- Christmas coloring pages
- Christmas flashcards, game cards, printable games and more



Here's a quick run down of almost all of the things that are new in the MES network for December 2010:






MES-English.com



new flashcards for teachers:
- descriptions flashcards: flashcards with different hair styles and facial hair
- 5-6 new PowerPoint files added to old sets. If you need a PowerPoint file and there isn't one available, just let me know and I'll get it loaded as soon as possible

addition to the ESL games section:
- new characters added to the High Town cards
- ideas for teaching language around regrets and giving advice

new English vocabulary videos:
- 5 new videos added to the MES English YouTube channel: prepositions of place, 2 videos on prepositions of movement, places set 1, and places set 2

the Comic Strip Maker has been updated. There were some problems of images not printing and I also fixed a small innocuous problem with the text. It should be running very smoothly now.







Tools for Educators.com



There is a new printable picture dictionary maker for teachers.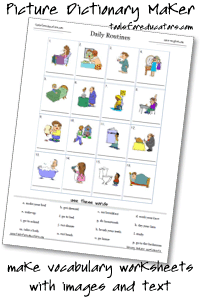 You can make a custom picture dictionary for students. There are options for up to 12 words, up to 16 words and up to 20 words. You can use less words and let the students add to the vocabulary list themselves. It's listed with the handout makers from Tools for Educators.

The original handout maker also got a minor face lift. the layout was aligned a little better and you can add a small title to the left-hand border now.

On request from some music teachers, I added 40+ new images to the music worksheets makers. They are more for actual music teachers, but if you have a musician in your classes, they might like an introduction to more in-depth music ESP.






123 Certificates.com



I added 4 new categories of certificates and bookmark templates
- friendship certificates
- teamwork certificates
- graduation certificates
- birthday bookmark templates






Print With My Pic.com



new graduation printables:
- graduation cards
- graduation certificates
- graduation invitations

a complete graduation printables guide from MES




a complete birthday printables guide




other new guides:
- Valentine's Day Printables
- Mother's Day Printables
- Father's Day Printables







MES Cards.com



There are 3 new card template categories:
- printable thank you cards
- printable dragon cards
- printable graduation cards




That might be it. There are a few other little things that were updated and added, but that's the main news there.

If you want to stay up to date with all of the additions to the sites, check out the MES FaceBook page. I post all of the updates and things that are added to MES English as well as occasional updates on new additions to other sites.

Have a wonderful December!

Happy teaching,
Mark