---
You can make dominoes with images for free at Tools for Educators.com

In dominoes players take a set amount of domino pieces. If we have 4 players, we'll take 8 each for example. If we have more players, we'll take less (6) . If we have less players we'll take more (10). You'll need about 50-60 domino pieces. Several copies of the same ten is OK but you might want to make 2 copies of 10 and 2 copies of a different combination of 10 and then some doubles. That will make one set for one group.

Players match the word side with the picture. So if I lay down the first domino from my hand and it has a living room picture and the word a bathroom, you (the next player) will need to put down a piece in the row that has either the word living room on one side or the picture of a bathroom on one side.

Match: word - picture | word - picture | word - picture ...

Here's a visual explanation.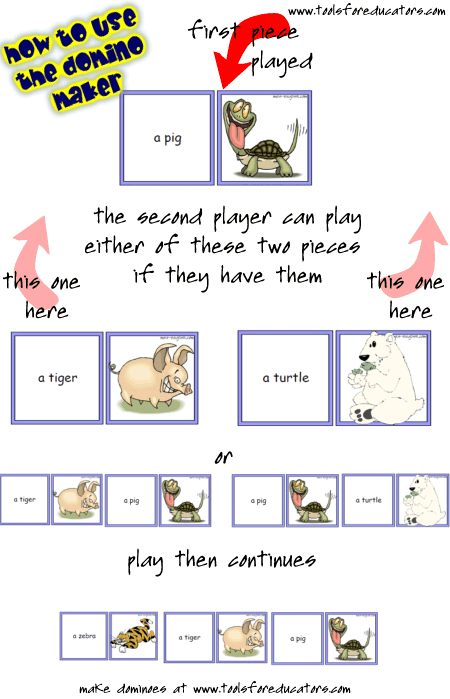 If you make some cards with the same word and picture (which you should) those pieces can be played horizontally creating new rows to build on.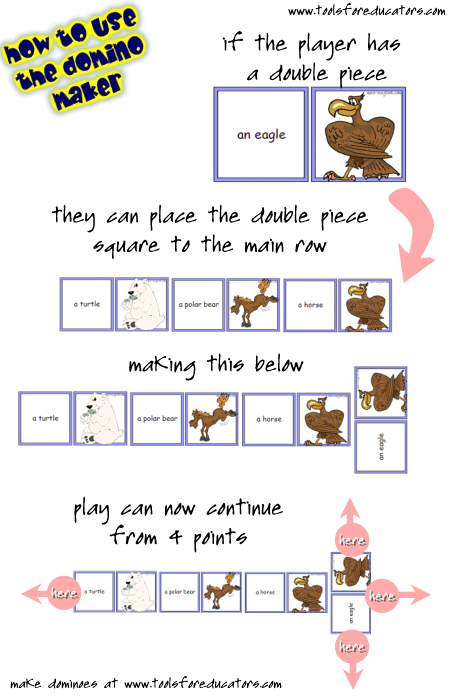 If you don't have a domino like either of those items, you draw a domino from the pile. Then play moves to the next player.

The goal of the game is to get rid of all of your pieces first.


For language practice, as a student plays a domino they have to use one of the words in a sentence. Or, to make it more difficult they have to use both of the words in a sentence. They have to make a question where the answer is one of the words on the domino, as another example.

If the students come up with other rules (and there are more) just let them go as long as they are learning.

I hope that helps.

Happy teaching,
Mark